Each of horse in our program plays an integral part in the path to each person's growth and journey. What makes them special is that each horse has it's own unique story of how it got to Whitehawk Ranch and the hardships it too faced in life.
Read below to learn the stories of our amazing equine partners!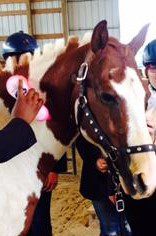 Gattino
Rocky Mountain Paint Gelding
Gattino was our very first horse in the Whitehawk Ranch program. He came to us at the tender age of 6 from a rescue and had a less than happy life. He is our "ambassador of resilience" because of his abusive early life and his continued faith, kindness, and openness to humans. He is the gentlest, safest, consistent little soul and we would absolutely not be where we are as an organization without him. He is our angel and touches every person who comes to us.
---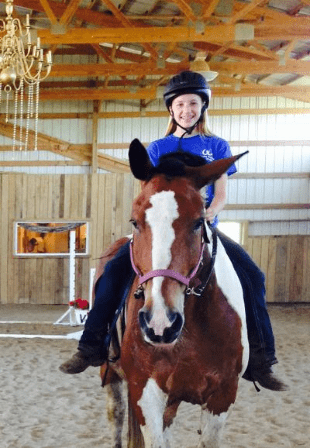 Calmare
1987 American Mustang/Shire Gelding
Calmare is a rare mix of the American mustang wild horse and a Shire Draft. How he came to be is a very long story but thank God for him!! He is our oldest horse and doesn't look or act a day over 10! He is the first horse everyone rides and is the second horse we acquired for our program back in 2003. He was owned by a Canadian family who rode him in the rodeo as a trick horse. Calmare also pulled a wedding carriage but we are happy to say that since we have had in him in our family, he has never pulled another thing nor has he had a bit in his mouth since he set foot on American soil almost 20 years ago!! He is a dream to ride and came to us with great training and ground manners. He is a remarkable soul who is the easiest keeper on record!
---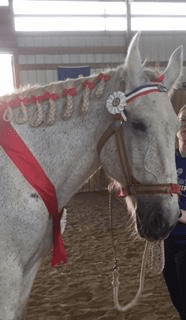 Melisand
2007 Percheron Draft Mare
Melisand is our largest horse as well as our youngest. She is a regal, lithe, magical being who is truly a gift. She collects effortlessly and is as smooth as glass to ride. She is very quiet and very patient and has the most beautiful trot. She came to us from an Amish family and is so happy to have her new home and we are in love with her!!
---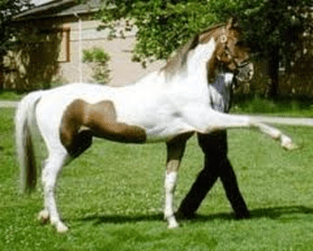 Perfetto
2001 American Saddlebred Gelding
Perfetto is our resident clown and entertainer. He has a very big and bold personality. He is a trained trick horse who can sit, lay down and play dead! He is also trained in 3rd level dressage and loves to be ridden. He loves everyone and is very expressive both verbally and physically!
---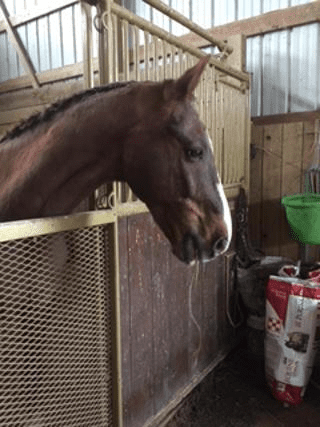 Dolce
American Saddlebred Gelding
Dolce is a three- gaited world champion Saddlebred who absolutely loves everyone! He is very affectionate and will stop eating to be with humans!! He loves attention and loves to be ridden and he is a great gentleman in the ring and in the pasture. He is our "million-dollar baby" because of his consistent temperament and his exceptional training in both saddleseat and dressage.
---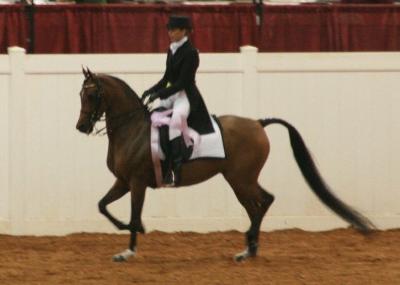 Dulcenea
National Show Horse Mare
Dulcenea is truly a one of a kind mare! She was number one in the world in Show Hack and she shows her pedigree in everything she does. She is the most athletic and supple horse we have ever had the pleasure of owning and she is by far the most affectionate…her favorite thing to do is to lick everyone! She too, like Dolce, would prefer to interact with humans rather than eat. She is a precious soul who has a healing essence about her.
Learn more about our horses by scheduling a time to come meet them and talk about openings in our program!